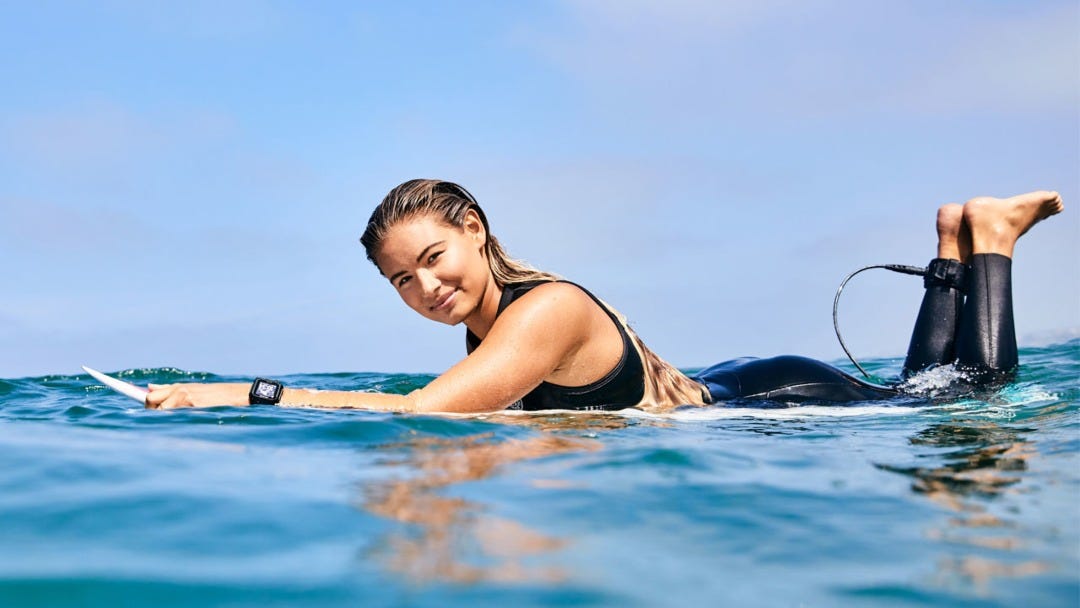 04/07/2022
Surfing Equipment for Beginners
Are you learning to surf? Here is a complete list of all the surfing equipment you'll need as a beginner.
Are you keen to head out in the water and take up surfing? At a loss on what you'll need to get going? Surfing involves a lot more gear than just a surfboard, and it can be hard to figure out what's required when you first start out.
Whether you're eager to join your friends out there, or you just want to take up a new hobby, this is the ultimate guide to surfing equipment for beginners. Here, you'll find all the surf accessories you need to head out for your first session and hit the waves with confidence.
Surfboard
Surfboard Leash
Wetsuit
Wetsuit Booties
Fins
Board Bag
Surf Watch
Hooded Towel
Surf Wax
You'll need a...
Surfboard
… duh! Even though this might sound pretty obvious, it's important to make sure you're getting the right surfboard for your skill level. Most people who are complete beginners will opt for a foam or soft top surfboard. These boards are super durable, safe and easy to maintain – perfect for catching waves with ease and preventing you from hurting yourself when you fall off (because let's face it, this will happen!).
As a beginner, the bigger the better. You should aim for something between 7'0 to 9'0, as the larger size will make catching waves and maneuvering the board much easier. Anything smaller will be too unstable, and anything bigger will feel too cumbersome. Find a board in this range to ensure you're standing up quicker, paddling faster, and improving your surfing every session.
Surfboard Leash
Grab yourself a surfboard leash to prevent your board from shooting to the shore when you hop off your wave. It will keep the board close to you, saving you not only from the tiring journey to retrieve it, but from potentially cleaning up other surfers out in the water.
Try to get a leash that is the same size as your board, so that it gives you enough length to surf without feeling restricted or getting too tangled up. Our regular surfboard leashes are designed with a 7mm thick polyurethane and fitted with a double swivel and padded ankle strap, so you can surf comfortably and reliably.
6'0 Surf Grip Leash
6'0 Surf Grip Comp Leash
Wetsuit
Next on the list, you'll need something to keep you warm in the water, so you can stay out for longer and perform at your best. Grab yourself a wetty and get out there! The wetsuit you buy will depend on the time of year, and what type of climate you live in. For cooler weather, a full-suit steamer will keep you from feeling the chill. A 3/2mm should do the job for most of the year, but in the dead of winter, you'll be looking at a 4/3mm.
If you live down south, or you're surfing in the warmer months, you can opt for something a little bit lighter. A 1mm or 2mm spring suit will add that extra layer of neoprene between you and the water, so you can skip the wind chill factor and stay protected from the sun. Otherwise, if it's quite warm outside, a rash vest will do just fine.
E-Bomb 3/2 Zip Free Wetsuit
Women's Dawn Patrol 4/3 Back Zip Wetsuit
Dawn Patrol Performance 3/2 Chest Zip Wetsuit
Wetsuit accessories
If you live in the coolest of climates, or winter gets extra chilly, you can keep your head, hands and feet warm with our wetsuit accessories. Wetsuit boots will keep your feet nice and toasty, while reef booties will also protect them if you plan on surfing any reef breaks.
You can also grab yourself a pair of gloves or a surf cap if you're surfing in some icy conditions, so nothing can stop you from heading out and getting better each session.
Rubber Soul Plus 3mm Split Toe Booties
Women's Flashbomb 3mm Hidden Split Toe Booties
E-Bomb 2mm Hood Flashbomb 5/3 5 Finger Gloves
Surf watch
Whether you're a beginner or a pro, you'll want to make sure you're heading out at the right time and the right place for every surf. Ditch your computer or phone and grab yourself a surf watch, so you are always up to date on the conditions.