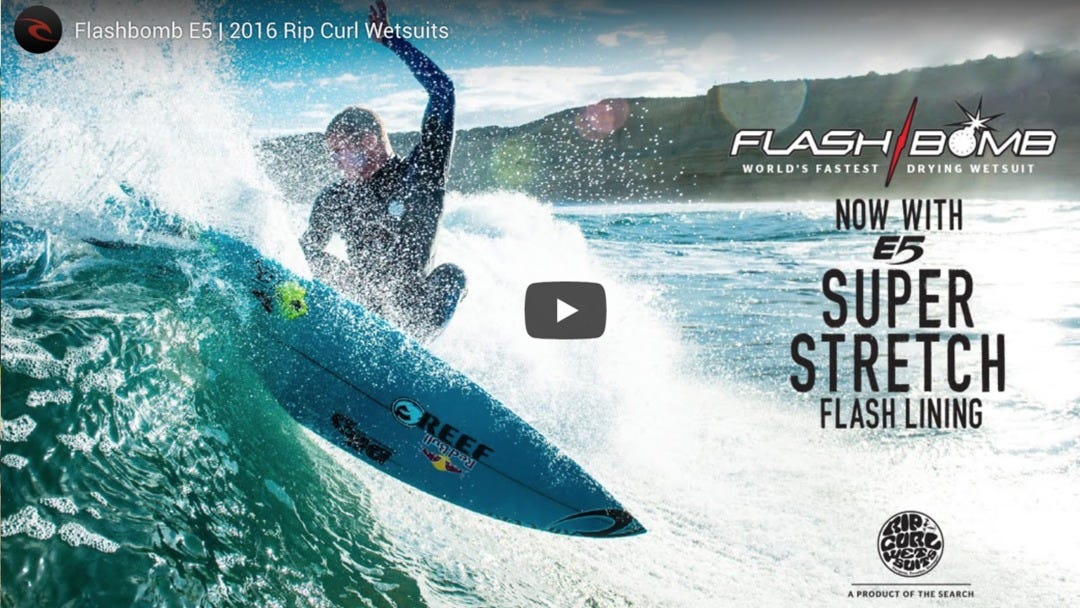 08/26/2016
Wetsuit Technology Is Changing At A Rapid Rate
In 2016 Wetsuit technology is still in its infancy with new features and technology adding to the surfers experience everyday. Rip Curl has been making wetsuits for over 40 years and we know what we are doing
Our current wetsuit, the Flashbomb is the world's fastest drying wetsuit. The Flashbomb is for the surfer who wants the best. No compromises. Constructed with the most advanced E4 neoprene, E5 flash lining and superior seam-sealing technology - offering unparalleled comfort that also keeps you warmer for longer.
Key features of 2016 Flashbomb include
Innovation in warmth The all-new E5 Super Stretch Flash Lining is an exclusive weave technology with 2 engineered layers - the first layer is designed so water passes through it directly into the 2nd layer. The 2nd layer then funnels the water rapidly out of the suit once its hung up. As well as rapid dry time Flash Lining is also one of the warmest, most comfortable linings out there. 
E5 Flash Lining Along with a quick dry the exclusive E5 Flash Lining offers 25% more stretch and a lighter lower profile. Paired with slimline liquid tape technology and E5 stress point taping for the ultimate in sealed seams, this is the best cold-water wetsuit ever made. 
Zip Free Zip Free is a revolution in wetsuit design. The absence of zips allows the wearer to enjoy greater freedom and ultimate stretch with minimal fuss. 
E4 Taping E4 tape is an extremely flexible tape reinforcing all seams to provide an additional barrier against cold water and at the same time adding to seam integrity. In conjunction with the Glued and Blind Stitched seam construction, E4 tape provides the ultimate seal between you and the water, keeping you warmer. 
Stress Point Security The key stress points and junctions of every Rip Curl wetsuit are reinforced with Stress Point Tape, providing increased strength of seams, meaning you won't have to hold back in anything you do in the water, because you know your suit can handle it.