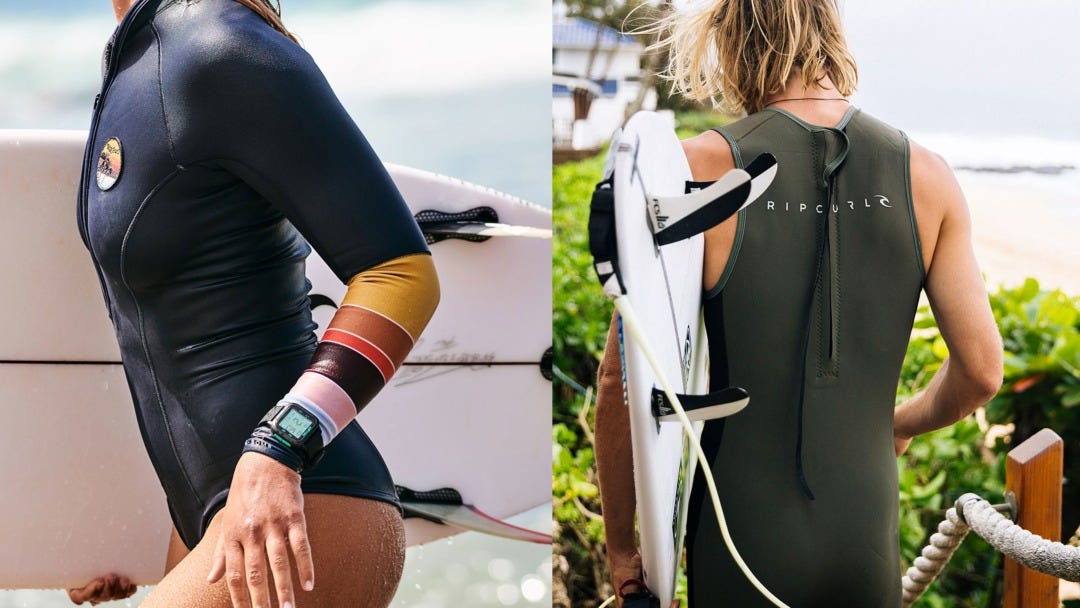 08/15/2019
The Best Wetsuits for Spring
Not sure what type of wetsuit is right for you this spring? We've put together a comprehensive list of the best surfing wetsuits for spring.
As winter comes to a close and we bid farewell to those icy mornings and bone-chilling winds, it's time to get prepped for spring. When the sun shines stronger, when the ocean starts warming and you can start ditching the steamer for something a little lighter. That's right – it's time to sort out what type of wetsuit you're going to need to make the most of your spring surf sessions.
To help, we've put together the ultimate wetsuit guide for spring. Go ahead, have a scroll and find the suit that's right for you this season. Here are all the different types of wetsuits for spring:
The Short John
The Short John spring suit is a lighter option wetsuit for warmer waters. Since the suit doesn't cover your shoulders, it's a great choice for those days when it's nice and sunny outside, adding that extra layer of neoprene between you and the water. The Short John provides ultimate stretch and will keep your core warm during your surf. It's also great for paddling, since there's no neoprene resistance around the shoulder area.
Grab yourself an Aggrolite 2mm Short John Wetsuit if you're surfing up North in a warmer climate, or towards the end of spring when the water is starting to heat up.
Side note… this suit is also a great choice for reef-breaks where you just want that added layer of protection on your chest and back.
Short arm short leg
A short arm short leg spring suit is super versatile – they can be worn during most of the spring season and will take you right through to summer. If you live in a warmer climate, they can be worn comfortably through most of the year. This style of spring suit is designed to keep your core and upper body warm, while the short arm and short leg provides flexibility where you need it most.
Our men's E-Bomb 2/2mm Short Sleeve Spring Suit is the ultimate stretch wetsuit, made from premium lightweight E6 neoprene that will take the chill off and feels like a second skin when you wear it. You could also opt for the Dawn Patrol 2mm suit, made with E5 neoprene for that extra warmth during those spring surfs when you've been out in the water for hours.
The Dawn Patrol 2/2mm Short Sleeve Suit is a great spring wetsuit for women. It's made with 2mm E4 neoprene, designed with short arms and legs to keep you warm during a long session in the surf. Otherwise, for those hot spring days, opt for a women's Sleeveless Spring Wetsuit, perfect for a spring surf in a warmer climate. The 1mm E4 neoprene will provide total comfort and flexibility while keeping your core warm so you can stay out for longer.
E-Bomb S/S Spring Suit Zip Free Wetsuit
Short arm long leg
Opting for a steamer with a short sleeve is perfect for the transition into spring, when it's not quite warm enough for a short arm short leg. This style of spring suit will keep you warm and protect you from the cool water, while the exposed forearms won't affect your paddling and will help regulate your temperature if the sun comes out.
Our E-Bomb 2/2mm Zip Free Short Sleeve Wetsuit Steamer is a great spring wetsuit for men, and is made with E6 super stretch neoprene. It will keep you warm on those cooler days, delivering massive stretch and a smooth, streamline fit.
The Long Jane is a long leg sleeveless spring suit for women, and a great option for keeping you warm in cool waters. The 1.5mm neoprene offers advanced stretch and flexibility, so you can confidently head out for hours on those crisp spring mornings.
Long arm short leg
The long arm short leg suit is a standard spring suit offering full length sleeves. This style of suit is great for those days when the water is warm but the wind picks up, as it will help cut out the wind chill factor by protecting your upper body. The short leg also delivers maximum flexibility, as there is no neoprene resistance at the knees holding you back.
A great option for a men's long arm short leg wetsuit is The Dawn Patrol 2mm Long Sleeve Chest Zip Spring Suit. Perfect for when those cool spring winds hit, keeping your upper body sheltered without compromising on flexibility and movement.
The women's long sleeve spring suits are our most popular spring suits for ladies. This style of spring suit is the perfect spring wetsuit for women, as it offers an extra layer of warmth and is designed with flexible neoprene that delivers ultimate stretch. Our G-Bomb Long Sleeve Hi Cut Spring Wetsuit is great for a spring climate as it offers 1mm of neoprene protection over the arms where you need it, while simultaneously giving you full range of motion in your lower body. You could also opt for a Madison Long Sleeve Boyleg Spring Wetsuit with fuller coverage in a boyleg cut, or our Dawn Patrol 2/2mm Long Sleeve Wetsuit for fuller coverage and thicker neoprene.
Wetsuit jackets
For those spring days when the weather is warm but you're after that added layer of protection, wetsuit jackets and vests are a great option. Wear a wetsuit jacket or vest with a pair of boardies when the weather is heating up and you're after some shelter from the sun, or when you want to keep the chill off and stay out in the water for longer.
If you're after something lightweight, opt for the Flashbomb 0.5mm Long Sleeve Wetsuit Jacket, loaded with features like E5 Neoprene and Flash lining to funnel water rapidly out of the jacket. Otherwise, our range of 1.5mm Long Sleeve Jackets offer extra warmth for those longer sessions.
The Dawn Patrol Long Sleeve Wetsuit Jacket is a great women's wetsuit jacket for spring, as the front zip allows for easy on-off and the 1.5mm E4 neoprene will keep the chill off and protect you from those harsh UV rays. The G-Bomb 1mm Long Sleeve Front Zip Wetsuit Jacket is a slightly lighter option, using 1mm E4 neoprene for total comfort and flexibility in the water.