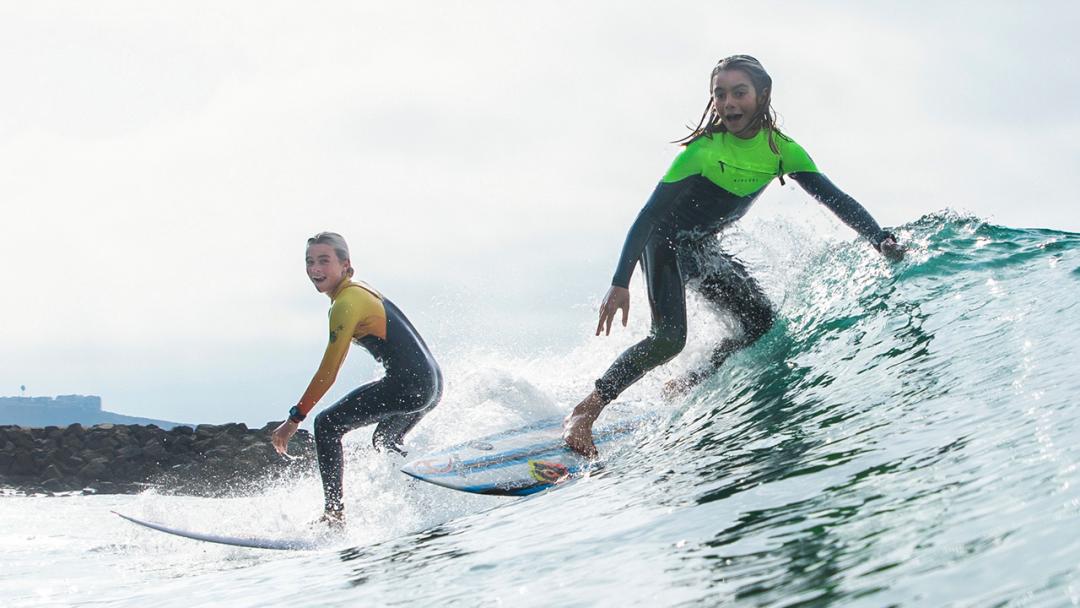 01/10/2022
Getting an Early Start: Surfing Tips for Kids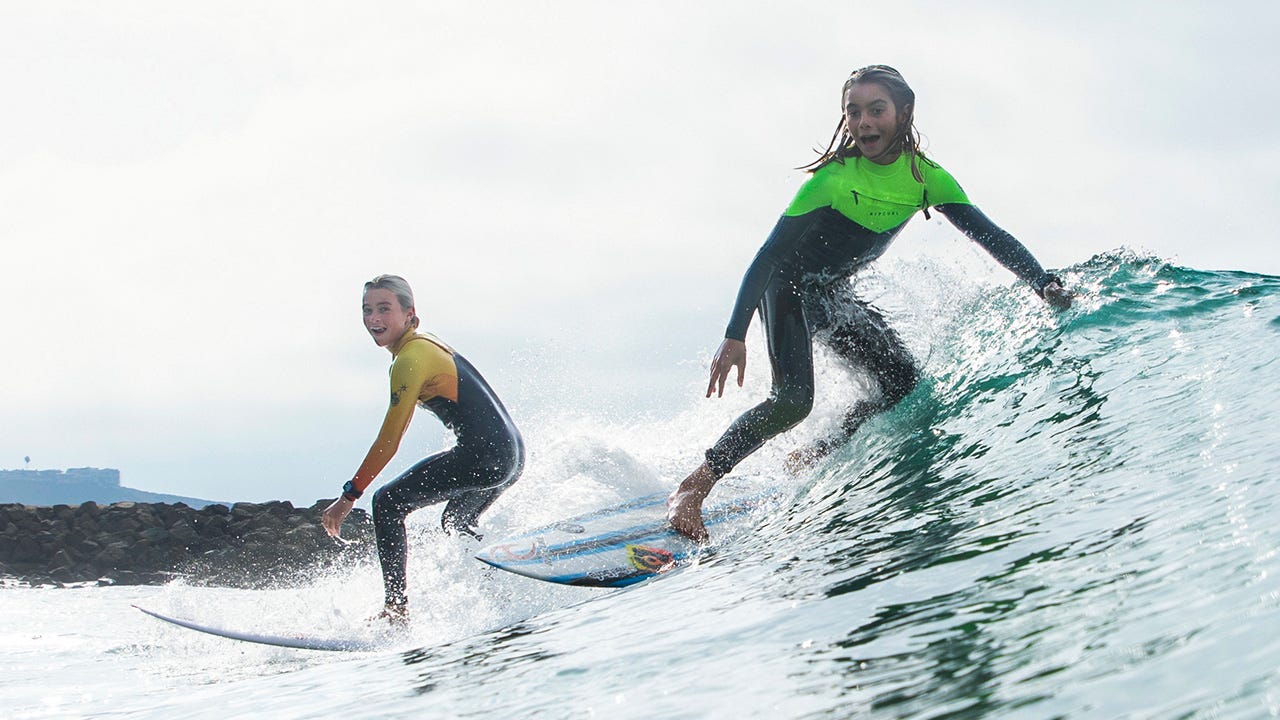 Want to get the groms started? Starting to surf can be an exciting yet challenging feeling, and getting an early start is a great learning experience for kids. Find our top kids surfing tips here!
If you're a surfer yourself and want to introduce your kid to the world of surfing, or if your kid has shown an interest in catching some waves on their own, read on for kid surfing tips and all the essentials you need to get them started.
---
Kids Surfing Essentials
When getting your grom ready to start surfing, having the right equipment is essential. Even though your young surfer is growing and will need updated gear as they get older, it's still important to invest in high-quality equipment. A surfing kids checklist includes:
Medium-to-Long length foamtop surfboard (6' - 9')
Backpack for beach essentials such as snacks, water, sunscreen, towels, and a first aid.
Swimwear for the beach like boardshorts and swimwear.
Warm clothes for post-surf sessions such as pants, hoodies, fleece, jackets, and hats
Surf accessories such as booties, rash guards, and surf vests.
Condition-appropriate kids wetsuit:

Fullsuits for more coverage and warmth in colder conditions
Springsuits for warmer conditions, but still providing coverage
Shop Boys
|
Shop Girls
|
Shop Kids Wetsuits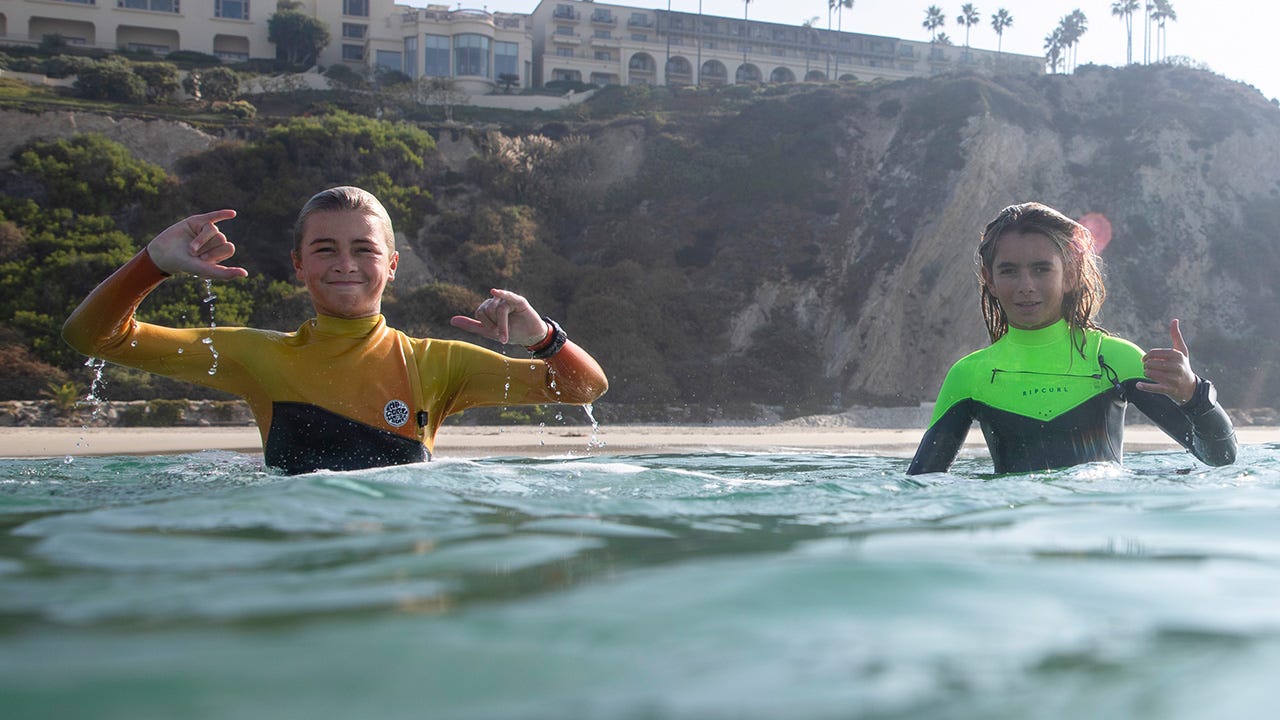 Kids Surfing Tips
Teach Them to be Strong Swimmers
This, of course, is the biggest surfing must. The first steps to learning how to surf is learning how to swim, safely. Take your child to swim lessons to get them comfortable, interested, and safe in the water. The earlier you start with swim lessons, the more familiar your child will feel being in the ocean. If you have access to the ocean, introduce them as soon as possible. It's also helpful to get your grom comfortable with being underwater just in case a wipeout happens (which it will).
Get Them Excited
Kids like to do things that they're excited about and think are fun. Surfing can be pretty heavy on the technical side of things, but that can come later. First, drum up the excitement and hype up the activity. If your grom is still pretty young, introduce them to the surfboard early, even if it means letting them crawl on it on the floor of your living room. Once they're ready to hit the water, make it all about fun. Don't force it if there's any hesitation before or during a session. A child forced to do anything likely won't want to try it again, but a child having fun will want to keep going back.
Practice on Land
Some things can be especially tricky for kids to learn when out on the water, like standing up on the board. Since some younger children might not have their center of gravity figured out yet or are still fine-tuning their motor skills, practicing on stable land is a much easier start. Have your kids practice paddling out and standing up, teaching them the proper techniques along the way. This can also help them form some muscle memory so it comes a little more naturally once they're hitting the waves.
Choose the Right Board
From a safety and fun standpoint, choosing the right surfboard is very important when teaching kids how to surf. Putting them on the wrong board can make accidents and frustration more likely. If they're young - start them on a boogie board, one of the first and easiest ways to start getting the feel for riding the waves. If they are grown enough, go onto a foamtop surfboard. They are light, stable, safe and easy to paddle which will help build up confidence in the water. Look for one between 6 and 9 feet depending on your childs age.
Keep Them Warm
Kids typically like to be as comfortable as possible. If you'resurfing water colder than 70 degrees, make sure you're equipped with the proper kids surf equipment to keep them warm. A full wetsuit is ideal for those colder temperatures. When choosing wetsuit thickness, aim for a thicker wetsuit than you'd personally lean toward. For example, buy a 4/3 mm kids wetsuit if you'd be comfortable in a 3/2 mm wetsuit. You'll also want to make sure the wetsuit is a perfect fit. Kids are quick to judge things being too tight or uncomfortable, so really take the time to get the sizing right to avoid discomfort. A comfortable kids wetsuit will be worn again and make learning to surf more enjoyable.
It's also important to keep your grom warm outside of the water. Once your surf session is up, grab some hoodies, jackets, or pants to end on a high (and warm) note while you enjoy the rest of your day at the beach.

Shop Boys | Shop Girls
Go With a Crew
Remember the tip to make it exciting? Having a crew can do just that. Having a group of friends of supportive family members can make the learning less intimidating. If your grom has a group on the same level as them, they can all help each other learn. Better yet, they'll form some of the closest bonds in their own little surf community. Enrolling your kid in surf lessons is a great way to help them meet like-minded surfing kids. You might meet some other cool surfer parents this way, too.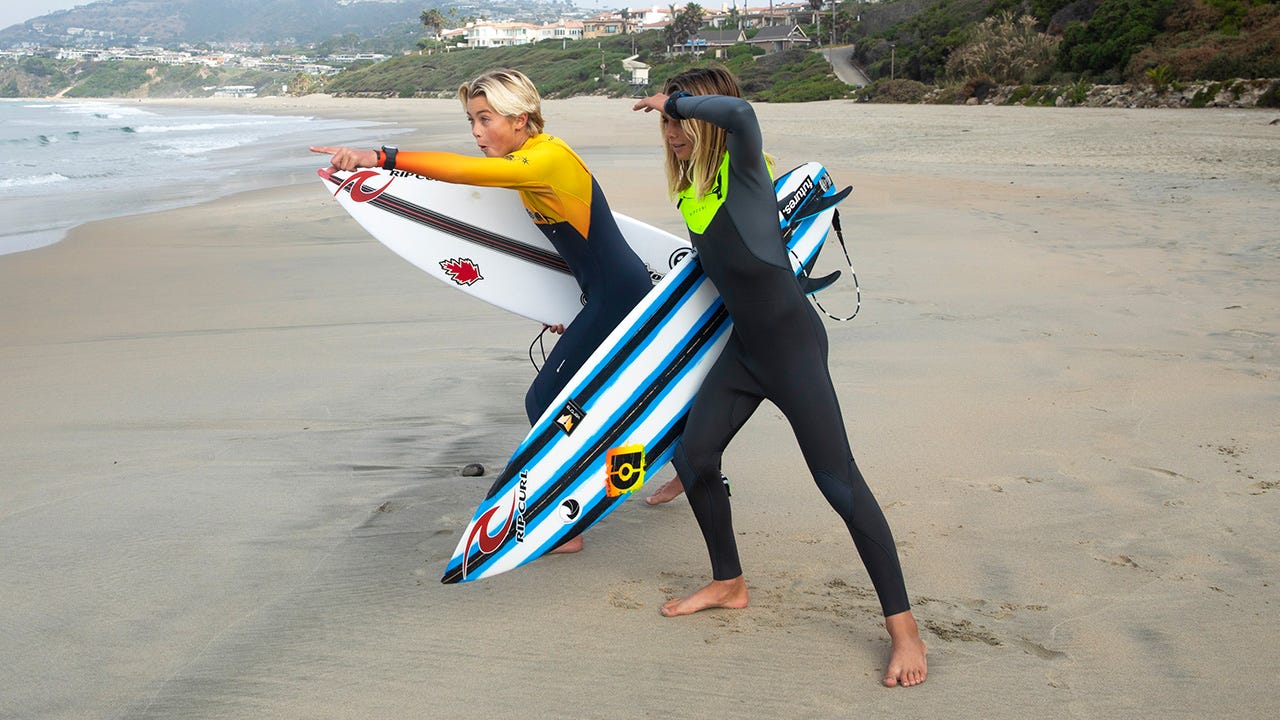 Be Patient
For some kids, their strength haven't quite developed or their coordination may be off. Some kids go through extreme growth spurts and have not quite adjusted to their body type yet making their balance a little awkward. By offering patience and understanding, you take away the pressure to perform well, making for a better experience.
Always End on a Good Wave
This one rings true no matter the age. A staple in any seasoned surfers routine. Always try to end your sessions on a good wave. This doesn't necessarily mean to catch the perfect wave at the end, though that would be ideal. Instead, it means to end on a positive note. Use the difficult moments as learning lessons and highlight all the awesome things that did take place. Remember, teaching kids to surf should be a positive and fun experience for everyone!
Getting Kids Surfing Lessons
Someone once said, "Teaching your children to surf is like trying to teach your children to drive - don't do it! Pay for lessons."
Even if you're a pro surfer, finding kids surfing lessons can be a huge help. This takes some of the pressure off of you, and it also gives your kid an opportunity to learn in a group setting. By all means, still practice surfing with your kids whenever you want! But surf lessons can offer a different type of learning scenario and style that'll only help. If you don't live near the ocean for regular lessons, signing up for kids surfing lessons while on vacation to spots like Hawai'i can be a special treat that'll leave an impression on your grom, even if it's only one or two lessons.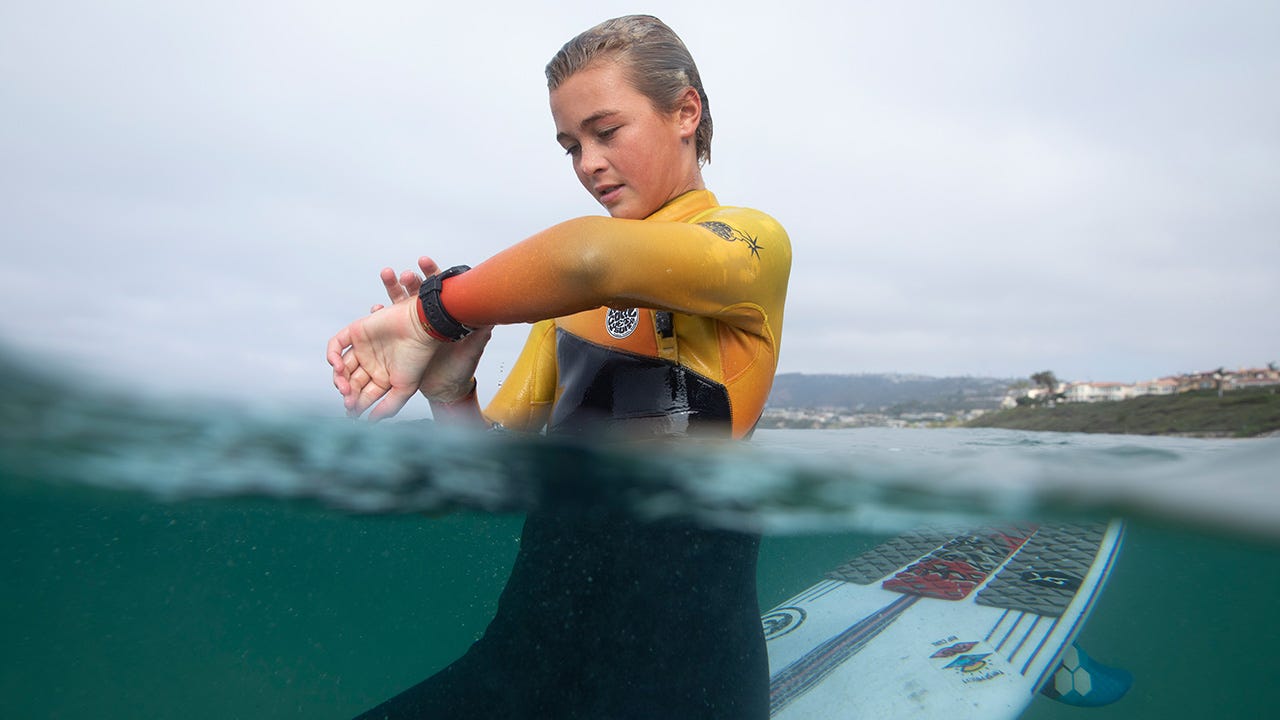 Getting Technical with 5 Simple Tips
If your grom is feeling comfortable with the motions and is starting to catch some waves, you can help them work on one of the more technical sides of kids surfing: Standing up. Once they figure that out, everything else will start to fall into place. Once they're ready to stand up, have them:
Put their palms flat on the deck of the board - not grabbing the sides
Use downward pressure to settle the board on the water
Arch their back and always keep their butt below their shoulders
Avoid breaking at the waist when standing up
Get in a wide and stable stance once on their feet
---
Rip Curl Groms
At Rip Curl, we understand the excitement of getting an early start in the surf world. Joining the surf community at a young age allows you to build connections that last a lifetime. That's why we believe in creating quality kids surfing products that will start them on the right foot. We don't spare any of the craftsmanship or care that goes into our products for adults, and use the same high-end materials and technologies to make sure your grom is off to a quality start. Follow these kids surfing tips, and maybe one day we'll see you and your little one at our Rip Curl Grom Search Series!