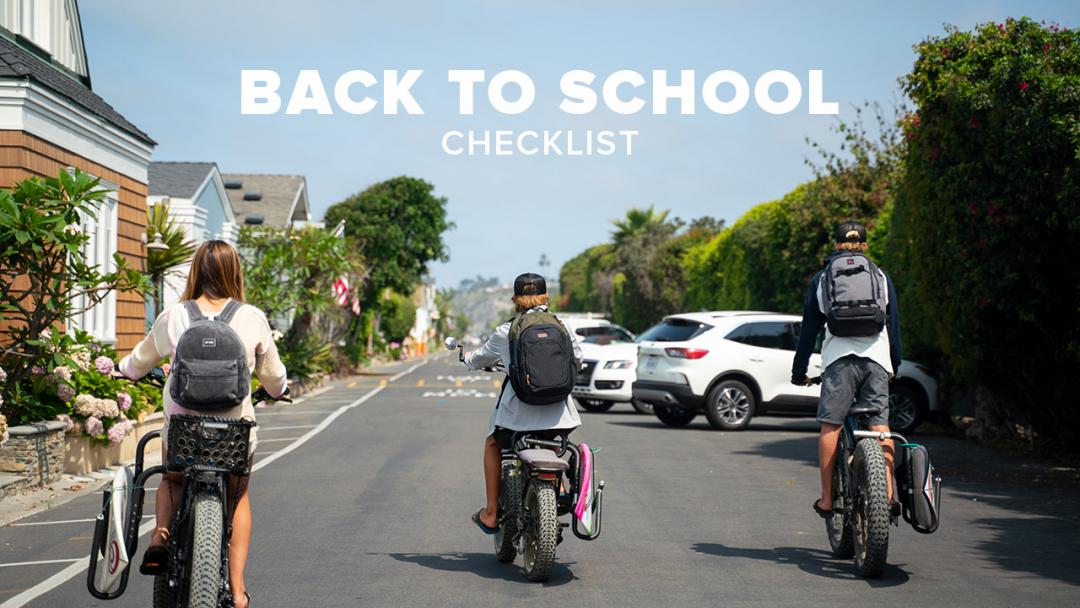 07/21/2021
The Back to School Checklist
The Grom's Ultimate Guide for Back to School
Summer is winding down and Back to School season is officially on for 2021! Made for when those pre-class surfs extend straight to the first bell - we make getting ready and staying organized simple.
From our lightweight, feature-rich F-Light backpacks, to Boy's and Girl's apparel, wetsuits, watches and more - find your favorites with our Back to School Checklist.
Searching for that perfect surf / school backpack? Check out the F-Light Surf and Posse. Hunting for a new wetsuit for pre- and post-class sessions? Explore our wide range of neoprene, from hooded suits to booties.
Staying out of the water before class? Not the worst idea... Explore the Overtime Backpack offering plenty of space and organization pockets. If you haven't gone shopping in over a year, it may be time to update that closet. Scroll below to checkout our latest Boy's and Girl's tees, shorts, jackets, hats and more.
P.S. – Make sure you never miss class! Shop our Boy's and Girl's watches here.
Boy's Backpacks
From the feature-packed, surf-focused F-Light Surf Pack to the roomy yet organized Overtime Backpack, we have your back this year with a large range of Boy's and Men's Backpacks, perfect for any student.
Girl's Backpacks
Backpacks to fashion totes, beach bags to handbags, we have it all. Need plenty of pockets and features for class? Try the Ozone. Going for the minimalist vibe? Checkout the Canvas Original!
Boy's Wetsuits
There's no better feeling than jumping in the water before or after class! Hit the lineup with a fresh suit and stay warm while performing at your best all year long. From toasty Flashbomb's to stretchy E-Bombs, the Rip Curl wetsuit range is the best in class.
Girl's Wetsuits
Stay toasty during those pre-class sessions with a new Wetsuit! Our Women's range holds the pinnacle of performance and comfort, with tons of styles and cuts to choose from.
Boy's Clothing
Explore our best-selling tees, shorts, wovens, boardshorts, flannels and more. From surf to swim, beach to street, toddler to teen, there's something for every student surfer.
Girl's Clothing
Score all the back to school trends this year with our best-selling Girl's clothing. Featuring our favorite Classic Surf Shorts all the way to our must have Tees 'n Tops. Explore the links below and head back to school loving your look!
Boy's Hoodies
From dawn patrols to sunset sessions, a go-to hoodie is a must have. Pull it on, hop on the bike and get to class. Explore our best-selling Boy's and Men's Hoodies here.
Girl's Hoodies
To keep you going when the chilly weather hits, we've designed a wide range of fleece, hoodies, and ponchos to keep you comfortable and warm in even the coldest of classrooms. Explore here!
Headwear
Flexfits to snapbacks, sun hats to scrunchies, we have tons of Boy's and Girl's headwear options. Whether hiding a bad hair day or shielding your face from the sun, explore these headwear options.
Watches
Need a waterproof surf watch or a just simple one to keep you on time? With tried and tested designs for both options, you'll find your favorite new watch here.
Surf Accessories
Towels, board bags, board socks, changing ponchos, wallets, keychains, stickers and more. Explore our must have surf accessories here!