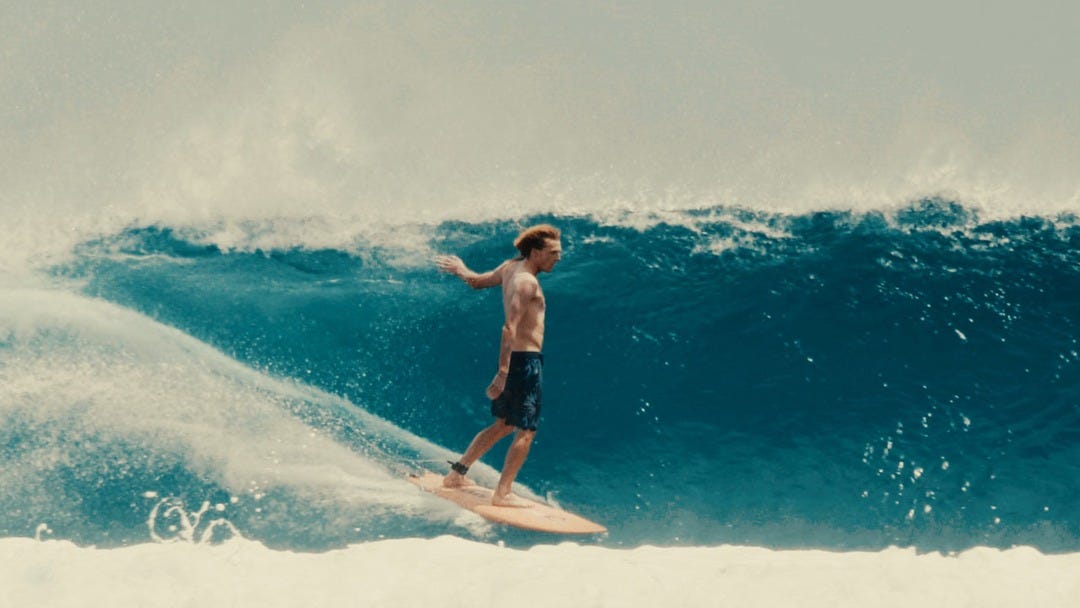 11/07/2019
Packing Tips for Surf Travel, with Passport-Filler Luke Hynd

Heading off on a surf trip? Make sure you skim through surfer Luke Hynd's expert tips on packing for a surf trip.
Packing for a surf trip can be hard. How many boardshorts do you bring? How many boards? What about travel insurance? It can all be a bit overwhelming. Lucky for you, professional surfer Luke Hynd has gifted us with a few of his all-time packing tips for surf travel.
With the release of his latest clip, Imagination Roulette Episode 003, he shows us just how fruitful packing correctly and timing your strike can be…
Find his top packing tips for travel here, and read a bit about his tropical and dreamy short film titled Imagination Roulette. If there's one thing that will help you start daydreaming about that surf trip, this clip is it.
#1 Packing Tip:
Check in one bag. You want minimal luggage. I have one board bag and one backpack, and by minimising my luggage I also only take what is absolutely necessary. Everything fits in those two bags. This is a huge help when you're transiting – you're not dragging a big luggage bag and a heavy backpack and a huge board bag. Only having a board bag and a backpack means that you can have a small hire car, you can fit your stuff in a boat, etc. Just be more realistic when you pack.
Must-have board:
The must-have board is a standard shortboard. If you get stuck you can ride that in lefts, you can ride it in rights, and you can ride it when it's big. Lately I've also started to make sure I always have a twin fin in my board bag, that helps keep it fun. You can get away with those two boards just about anywhere you go.
How to fight jetlag:
Don't get into the afternoon nap. You have to push through. The one-hour nap can be so satisfying, but it'll really throw you off. Stay awake until 7pm. If you can make it to 7pm then you're in the clear and you'll adjust to the time zone pretty well.
Must-have surfwear:
I always have two of the same boardshorts, so all of the footage looks the same. The Mirage 3/2/1 boardshort is my favorite right now. I also always travel with pocket booties. With 1MM Booties you can run across the reef, fold them up and put them in your back pocket. They're so good to have when it gets low tide on the reefs.
Forget-me-nots:
I always forget headphones. I can't tell you the amount of $10 headphone sets I've bought at the airport. Or, if I remember the headphones then I forget the adapter. Also, zinc and sunscreen.
Surfing gear you need to bring extras of:
You always need more zinc and more wax. If you run out of zinc then you're going to get sunburnt, wherever you are in the world. And wax? Well, you never want to be "that guy" that's borrowing wax.
Travel insurance?
Always. I used to have year-round travel insurance, but now I have one with my credit card, so I just fill out the form when I'm on the plane and lock it in. You hear way too many horror stories, and shit happens when you're on holidays.
Best tip to navigate in a country where you can't speak the language:
I recently got onto the Google Translate app. You can download it when you're in Wi-Fi or on your data in your country, and it works without internet once it's downloaded. If you're really struggling you can speak into your phone and you'll get the point across, and you won't run a huge phone bill either. You feel like a kook but it helps when you're desperate.
Sunscreen or zinc?
Definitely zinc, but I recommend both. Sunscreen then zinc. I always wipe my nose or put my wetsuit on, and when I come in from a session I realise that there's nothing left protecting my skin. Sunscreen up first and you have a little hidden layer in case your zinc wipes off.
Quick fix for board dings:
I travel with a little resin kit to clog it up. If it's not that bad I'll just run it with a ding in it. And if you want to feel better about it, you can always put a sticker over the ding. I'm not sure how much that actually helps, but it makes you feel better…
Switching gears here. Talk to us about your latest clip, Imagination Roulette. What's it all about?
My filmer Darcy Ward and I wanted to do a series where each episode had a different feel and a different vibe. The first episode we did was quite dark, featuring big slabs in Ireland and Scotland. Each episode has a very specific feel, and this latest one was all about the tropics – dreamy sunsets, boardshorts and blue water. We really tried to match the shots and music and surfing all together to create a vibe. The goal was to create an atmosphere, so when you watch the clip you are transported, and it feels like you're watching it live. It's a full passion project.
This latest clip sure is dreamy. Care to let us know where you travelled to, to score these perfect blue barrels?
The first trip we did was a boat trip to the Maldives. I'd never been there before, and it is the most tropical location. It's out of a dream. The water is the bluest in the world, and it felt like nothing could compare. The waves and the water really speak for themselves. There's this one wave in the edit where I am smiling through the barrel, because I couldn't believe how perfect the place was. The second trip we did was to Desert Point on Lombok in Indonesia. This trip was the first time I'd been there, and I was blown away with how much fun I was having on my twin fin out there. After a year competing on the Qualifying Series it felt so refreshing to be on such an amazing wave and such a fun board. I was flying. That wave is so fast, you have to hold your speed and just keep flying with it. You feel like you're on a magic carpet going straight.
What about the flip side to the dreamy blue water barrels – there had to have been some speed bumps in the creation of this clip. What was most challenging aspect of putting everything together?
Timing. Timing the charts, getting the waves and getting the shot in the lighting that you want. For example at Desert Point we wanted to shoot in the afternoon light, but then you've got the tides to contend with, not to mention the 100 other people out. To get a wave on a set at the right time of the day, when the sun is out, and actually surf that one wave to the standard you want, it's no simple task. We'd stay out for eight hours trying to get that one wave, poor Darcy was standing on the beach burning his retinas staring into the sun. There's a lot of slaving that goes into the behind the scenes work to get that dreamy aspect. What you see in Imagination Roulette is the highlight reel.