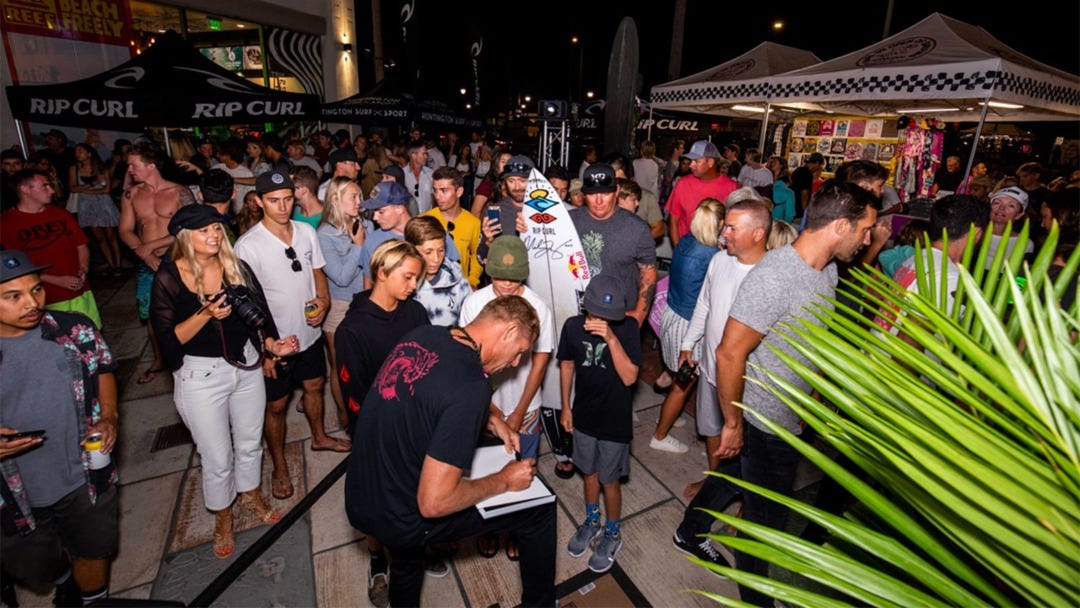 07/29/2019
Red Monkey Full Moon Shines Over Huntington Beach, CA
As the sun set on opening day of the 2019 US Open in Huntington Beach, the iconic corner of PCH and Main Street was just beginning to come alive. Industry legends and surf icons were seen roaming the grounds of HSS mingling with fired up groms and fans, while enjoying a few beverages with those so inclined.
Hoots and hollers were heard as the movie came to an end, made significantly louder as the men of the hour walked toward the stage. WSL personality, Rosy Hodge, met Mick Fanning and photographer Corey Wilson for a post movie Q+A, driven by the fans. Mick satisfied the minds and discussed a few of his beloved waves, his favorite heats from his career and how current life is treating him on The Search, along with his new sidekick, Mason.
After the Q+A, a furious game of grom rock paper scissors broke out in hopes of winning a few Corey x Mick books and the main grab, one of Mick's boards used during the film. All in all, many books were tossed to fans and one lucky grom went home with a new wall hanger (hopefully). It was a beautiful, classic CA summer night made even better by a vibe only brought on by pure surf driven stoke.
We would like to thank the Pai Family and their legendary crew at HSS for hosting and providing food, as well as Town Parke for generously donating beverages. We'll see you all for the next episode along The Search!