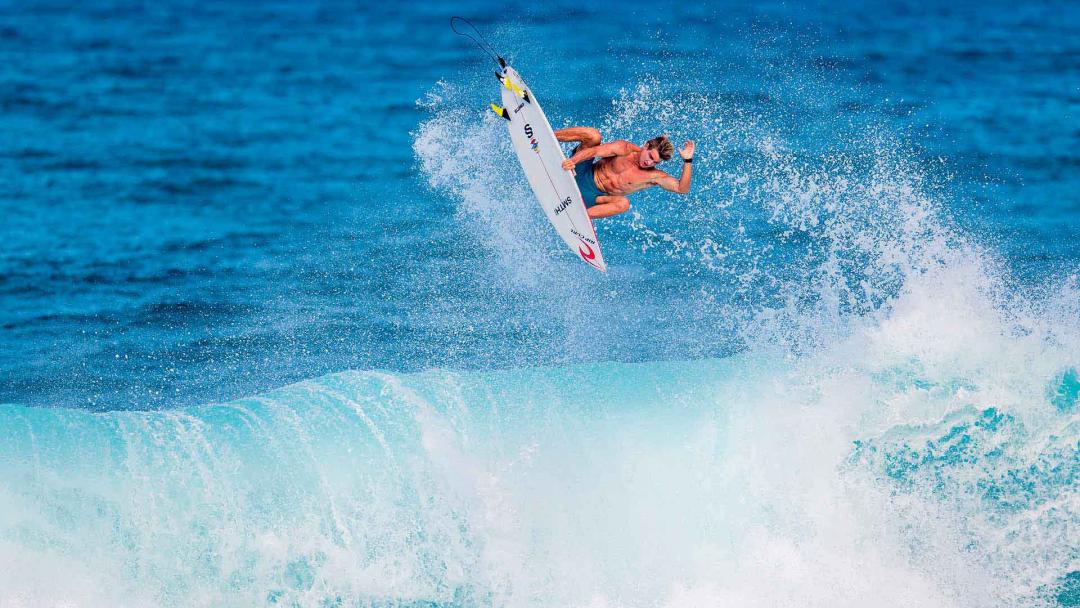 07/28/2022
Right at Home with Matty McGillivray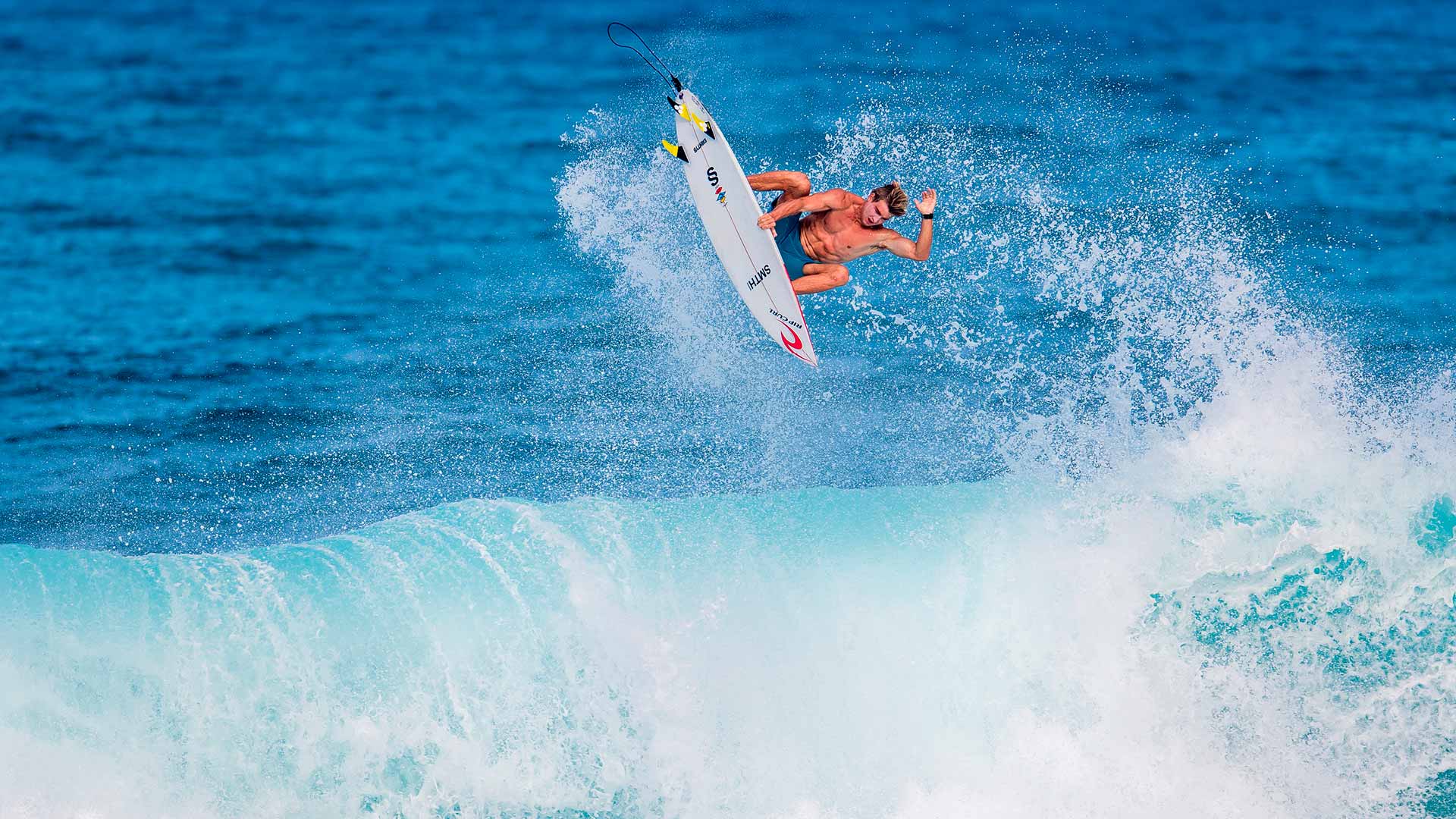 If you've tapped into Matty McGillivray's insta feed you'd be forgiven for thinking he's got his head in the clouds. We caught up with the skydiving Jbay local to find the opposite to be true. Switched on, driven, zen, …not fearless but not far from it. He's got his sights set on the top spot and his goals set; big, small and olympic-sized. Check out the full interview below.
Matt, cheers for the chat. Where are you at right now?
"I'm just on my couch watching a few two footers roll down the end section of J-Bay's point."
Nice! So the Jbay event has just wrapped up. It was epic to hear the beach absolutely erupting during a couple of your waves. How was it surfing your first Jbay CT event in front of a home crowd?
"South Africa missed having a CT for two years and so a lot more people than usual showed up to watch the event and the atmosphere was electric! I wasn't expecting the support I got and it really felt special having so many people behind me as well as my friends and family watching live from the beach. It's the event I looked forward to the most this year and I'm so happy the waves delivered a good show. I felt the added pressure which was definitely real but I also just wanted to soak up the experience and enjoy the moment of being out there as much as possible."
You have grown up looking at the perfection of Jeffrey's Bay so at what age did you start getting out there, who were you with, and how was it?
"I first surfed Jeffreys Bay for my 10th birthday. I lived in Port Elizabeth and for my birthday present my parents drove me out for the day to try catch my first waves out there. I'd only been surfing in bits and pieces before then because Port Elizabeth doesn't have the best waves and I was focused on different sports at the time, but it was on my 10th birthday that I fell in love with surfing. From then on my brothers and I would often drive out to spend the weekends surfing the points. A few years later my parents packed up the family home and moved us permanently to Jeffreys Bay, something which I am so grateful for!"
Looking over your Instagram, the phrase, "adrenaline junky" comes to mind. You're base-jumping and skydiving, you even snuck in a skydive on the first lay day at Jbay! How did you get into it? And how often are you doing this?!
"I come from an adventurous family and my brothers and I always wanted to skydive growing up. It just looked like human flight was the peak of fun as far as adventure sports go. When my two older brothers started their skydiving courses I was so jealous and then when I turned 16 (the minimum age) I started as well. The dropzone to skydive was a two and a half hour drive away at the time so it took me a while to complete my course but skydiving became my favourite hobby when I was 18. I wanted a career in surfing and to make money so that I could skydive haha.
Then in 2018 my elder brother, Jono, decided he was going to continue with the dream of base jumping by booking a flight to a base jumping school called Snake River Base Academy in Idaho, United States. Base Jumping is a lot riskier than skydiving and scared me but it had been a dream of mine as well and was something I didn't want to miss out on. Jono and I spent two weeks jumping off the bridge in Twin Falls, Idaho, completing 50 base jumps and learning the dangers and risks involved. Back at home in Jeffreys Bay we have two bridges in the area we can jump off and Cape Town is a Base jumping mecca with the mountains. There's lots to explore around here with a parachute."
So you're obviously comfortable jumping out of planes and hurtling towards the earth… Some people would say that sounds pretty stressful. Do you think it helps you deal with stress and high pressure situations when you're on land or in the ocean?
"I think the stress response is very similar in surfing competitions and dealing with that pressure and how you feel before a skydive or base jump. In both instances there is fear that is trying to stop you from achieving your goal. In Base jumping, the fear of the risks involved are very real and in surfing a heat in competition, the fear of failure can be very strong. When I was in Margaret River, Jay Thompson came up with a little exercise to help me deal with the pressure I felt going into each heat.
He would make me visualize that I was getting ready for a base jump. Before I ran out into the water with my rash vest on, I would say, 'I'm standing on a ledge' and that would be my mindset paddling out. It goes along with a saying my dad would always use when we were kids - 'feel the fear but do it anyway."

You slayed a few giants in your heats in WA, making the mid-year cut in the process. Defeating Kanoa, Sammy Pupo, and Italo. That must've felt good. Tell us about that run, and about making the cut.
"I was almost last in the rankings coming into WA and not in a strong position to requalify. The start of the year had been frustrating because I felt like I was still doing my best surfing in the freesurfs but in competition my decision making had been off and I didn't feel I had performed to my potential yet. I knew I was well suited to the waves in WA and that the previous year it had been my best result so I clung to that hope that I was still in the picture even if I needed a huge result to make the cut. Funnily enough I came last in my first round heat and had to surf in the elimination round. I'd become quite accustomed to that round though and reset my focus. I made my round 2 heat and then against Kanoa in round 3 the waves were big and unpredictable.

He surfed smart, finding scores while I struggled till the end stages of the heat. Needing a big score I found two waves in a row to come from behind and win. After that I felt anything was possible. I went home and saw on the WSL daily recap that I needed to make one more heat to get above the cut-line. I was right there and couldn't sleep that night because my heat against Sammy the next day would mean so much. I was so focused on trying to do everything I could to be on the right waves. It ended up being the first heat I actually felt in control of and felt so surreal when I'd finally made it through. In my next heat against Italo I was more just relieved and free-surfing than worried about the competition because I was safe."
Do you approach heats differently depending on your opponent? Is there anyone on tour you love or loathe surfing against?
"I feel more competitive surfing against guys that are my age such as Jack and Ethan, Kanoa and Griff. Watching them surf and getting to compete against them is super motivating."
Your surfing really shines in the big stuff and Tahiti is up next. How do you prepare for an event like that?
"I think the only way to prepare is to go there early. I'm looking at flights at the moment but it's pricey! Morgan Cibilic has already done two strike missions there this year so I'm going to pick his brain."
This year you've gone from wildcard, to post mid-year cut, and on the cusp of the top 10. Is goal setting a big part of your process? What's the next goal on the hit list?
"Goal setting is huge but sometimes we forget about the smaller goals which make up the bigger ones. It's the little stepping stones that get us to where we need to go. The top ten was a big goal this year and I'm trying to achieve it. After Tahiti we will have some time off so I hope to start working on my strengths and weaknesses to get a head start into 2023. I really want to qualify for the Olympics."
The waiting period for the Tahiti Pro at Teahupoʻo in French Polynesia starts August 11. Tune into worldsurfleague.com to catch the live action and cheer on Matt.