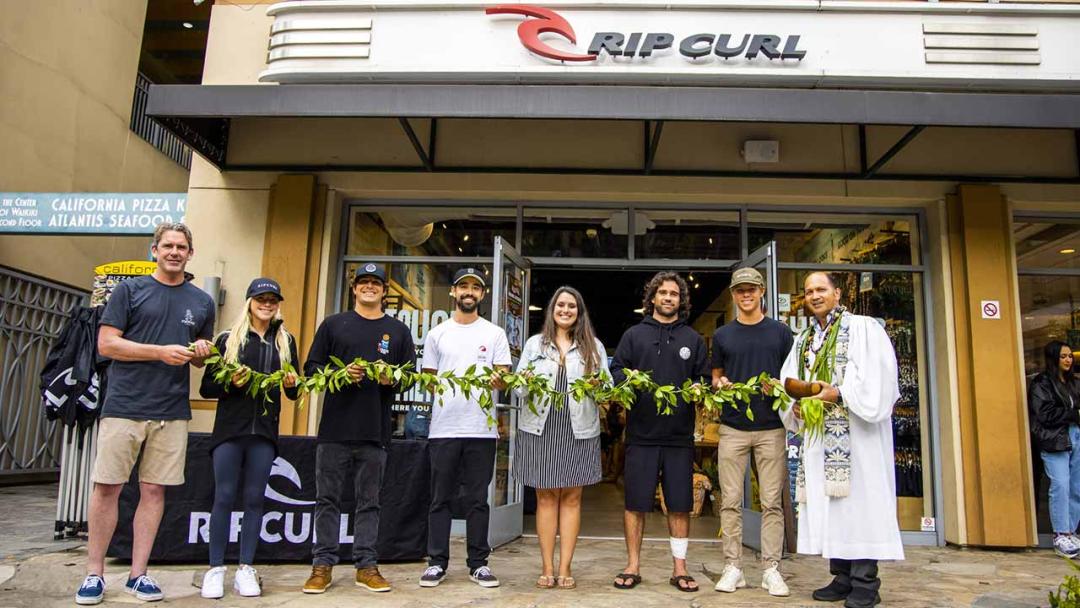 01/31/2023
Rip Curl Waikiki Celebrates Epic Grand Opening
Rip Curl Waikiki celebrated its opening this weekend with an epic gathering of friends, musicians, surf stars and more. Located in the heart of surfing's birthplace, the shop is newly renovated and captures the essence of aloha and stoke that such a special location deserves.
"You come to this part of the island and you can really feel how important it is to surfing's history and culture," smiled Mason Ho, who's coming off of a memorable performance at the Eddie Aikau Big Wave Invitational at Waimea Bay last week.
To mark the occasion, before the festivities got underway a special blessing was offered up to pay tribute to Hawaii, the idyllic South Shore, the new store and its customers and employees.
Ho, was joined by longtime friend, Sheldon Passion, also his co-star from the new documentary "Through The Doggy Door," as well as rising stars Erin Brooks and Luke Swanson. Signing posters and talking story with friends, family, fans and customers, the crew made sure that everyone had a big, old smile on their face.
The amazing humans at Banzai Bowl showed up to dish out free bowls to everyone and bring the stoke level to the next level. Local tunes jammed in the background. The shop was hoping and the vibes couldn't have been better.
A special thanks to everyone that turned out and made this store opening such a great day. And for those that didn't make it, should you find yourself in Waikiki, swing by and stay hello. We think you'll be really stoked on what we've been working on.
Get directions with our handy store locator.